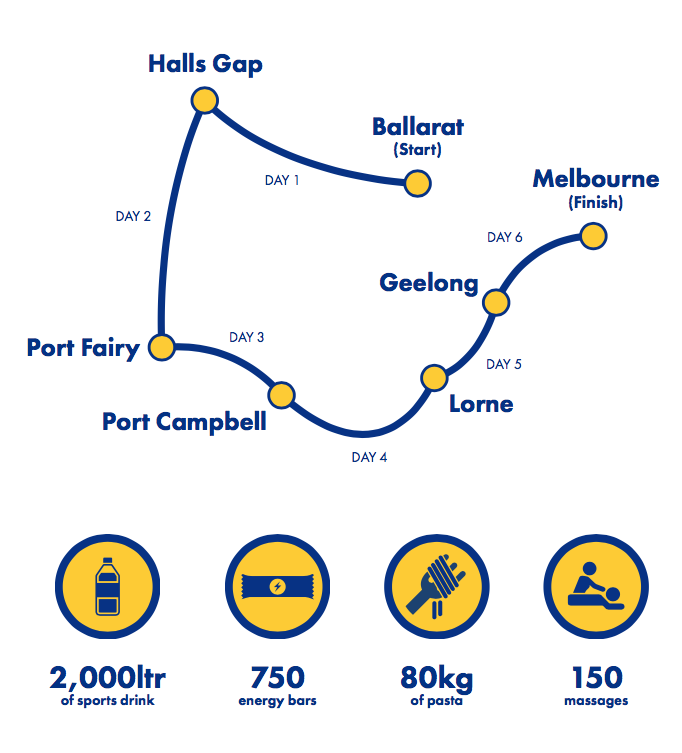 It is all systems go for RazorRide 2019
RazorRide19 will start from Ballarat on Monday 4 February 2019, and will cover 800kms of Victoria's most iconic cycling locations over six days before enjoying finish-line celebrations in Melbourne on Saturday 9 February.
GriefLiners, who are keen cyclists, have the chance to join the ride by registering their interest  info@chamberlainfoundation.org no later than 20 December. They will join 21 other passionate riders who have already signed up.
Ray Chamberlain said: "We hope to raise $100,000 to support mental health services for children suffering the effects of grief or loss."
"We are delighted that the Bendigo Bank Communities, Mercedes Benz Berwick, AIA Vitality, Tineli, O'Maras Cycle Shop Black Rock, Winners, Bond Projects, and Insurance Advisernet, have recommitted their support to the ride."
He said the Razor Ride was still looking for a paramedic to volunteer through the ride. So far, they have the ten volunteers and four support vehicles assisting them to keep riders safe as well as managing motel bookings, meal preparation and the post-ride recovery regime.
"Keeping the Razor Ride on the road is a massive undertaking," Razor Ray said.
"It takes 2,000 litres of specialised hydration drinks, 750 energy bars, 80kgs of pasta and 150 massages are only part of what the riders require to keep the pedals turning over six days and 800kms. And that is just the start," he added.
To give to the RazorRide 2019 and support children suffering the effects of grief or loss go to https://nfp.everydayhero.com/au/the-chamberlain-foundation