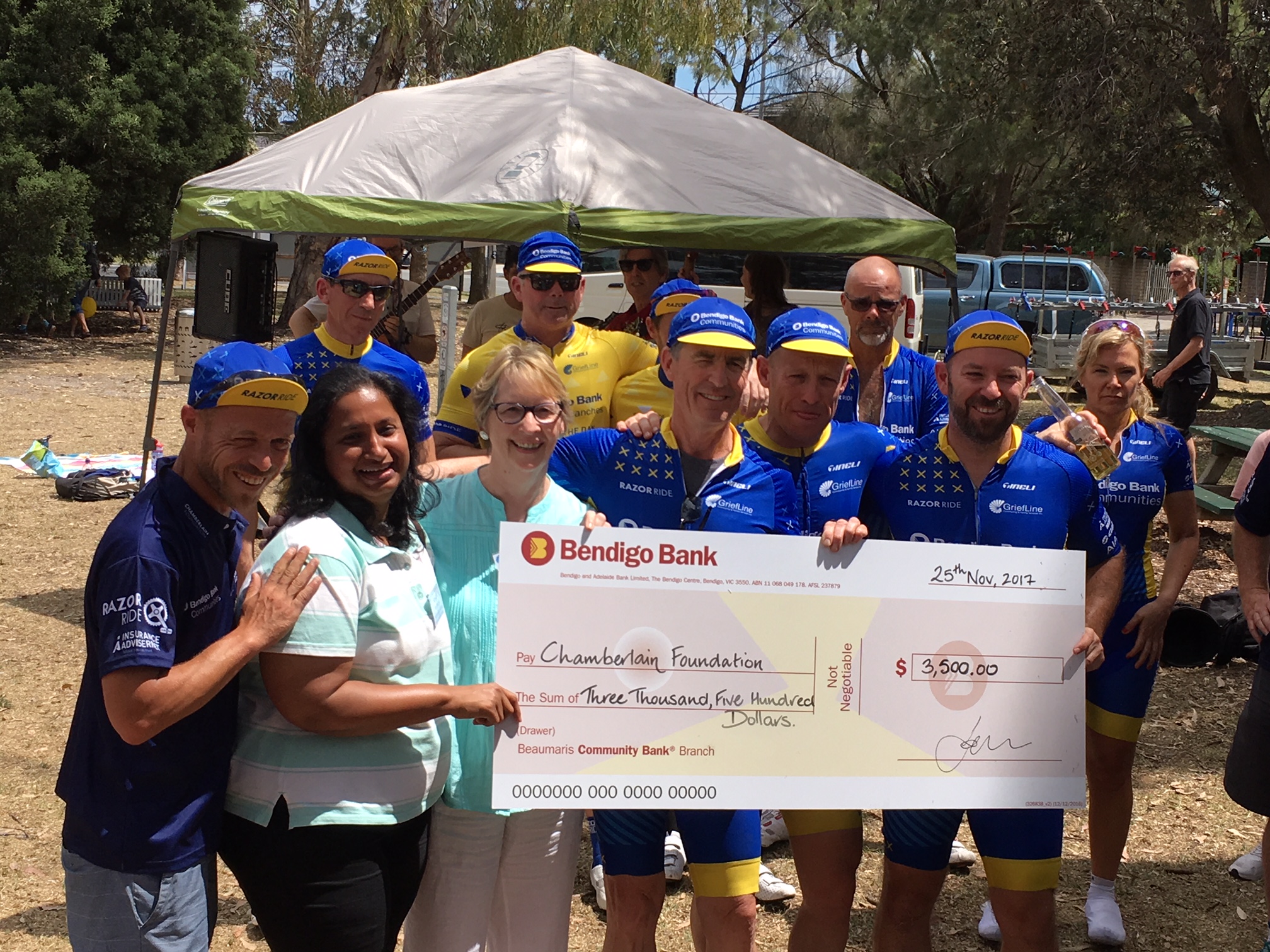 Three magnificent Brothers Chamberlain and one amazing Razor Ride team rode into Beaumaris to a round of applause and awe!
The team had cycled over 600 kilometres to raise funds for GriefLine, and were rightfully treated to a hero's welcome after six hot and challenging days in the saddle.
They were rewarded with a wonderful cheque from Bendigo Bank's Beaumaris branch, and news that the donation tally had risen to $62,000.
The funds are earmarked for GriefLine's suicide prevention and mental health work. These are a major part of the calls that GriefLine receive. Funds will also assist children experiencing trauma from domestic violence.
Kathy Wells, Manager of the Helpline and Bereavement Counsellor, said she and the GriefLine team were moved by the extraordinary effort the 20-strong team had gone to to raise funds for the service.
"We cannot thank the brothers and the riders enough for their support, their generosity, and their willingness to talk about loss and grief emerging from suicide and mental health," she said.
"This is a wonderful Christmas present."
Drum roll for the riders, volunteer and sponsors: Ray, Brian and Peter Chamberlain, Ryan Dummett, Angus McDonald, Jeff Wakeling, Andrew Phillips, Dan Andrews, Bill O'Neill, Daniel Gladstone, Chris Donlon, Andrew Toy, Matt Jamieson, Nick Slater, Dimity Gannon, Gabe Kopke, Tommy Nankervis, Laura Buckley, Sal Cinque Chris Shaw, Russell Jenkins, Dennis Tarrant, Stuart Greig at the Bendigo Bank, Leon Nardella Giant Ormond, Ged Lowe from Lowe Financial Group and AIA Vitality Australia, Insurance Advisernet Foundation Insurance Advisernet Australia – South East Tommy Nankervis from Tineli Australia(cycling kit), and Dom from Winners Bars (sports nutrition).
To donate to Razor Ride and Griefline – https://give.everydayhero.com/au/razorride2017