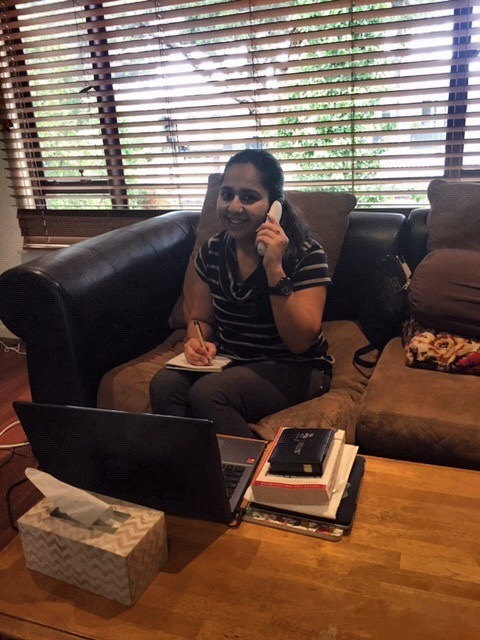 Student placements are not always life changing but for 25-year-old Annu Idnani, the opportunity to spend time at GriefLine has certainly made a difference to her outlook on life and the time she has spent in Australia.
A volunteer for the last two years, Annu joined the organisation as a placement student while studying successfully for a Master of Counselling at Monash University.
She has not looked back.
"The variety of work, the people I was meeting, the issues I was hearing and learning about confirmed that I had landed in the right place for my study and myself."
Shortly after starting her student placement, she enrolled in GriefLine's highly sought after Loss and Grief training program. The program, supported by the Magistrates Court of Victoria, is robust, with a thorough introduction into the many different issues that volunteers listen to every day. It is supported by supervision and professional development.
"The support and the training I received stood me in good stead for taking calls on the helpline. GriefLine understands the value of volunteers, and understands what volunteers need to do the best job that they can," Annu said.
Outside of being a GriefLiner, Annu worked as an account manager in Australia.
After four years in Melbourne, Annu has now returned home to Bhopal in India where her elder brother is getting married. She takes with her fond memories of her time at GriefLine, as well as a deep understanding of the impact of loss and grief.
"We underestimate how debilitating loss and grief can be on an individual and the ripple effect onto their family and friends," Annu said.
For her, the GriefLine experience has taught her the significance of 'being in the moment.' Annu said that that enabled her to move on from difficult calls, learning how to listen hard and keep the conversation flowing.
"Next to my phone I had a little note with three messages to guide me: firstly, you didn't cause it, secondly, you can't control it and finally you can't cure it," she said.
As she reflects, it is not every day that you can land on your feet but for Annu: "GriefLine was the right place for me. I found family here."