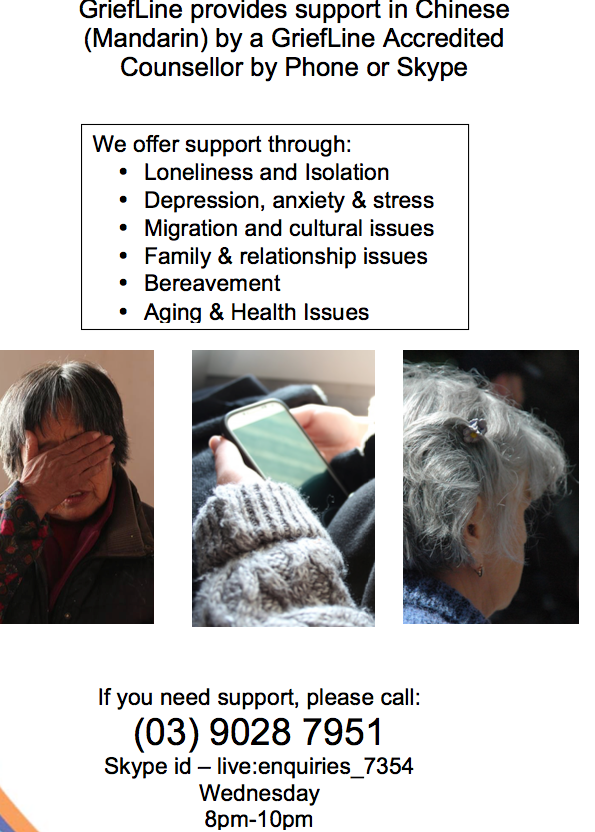 Chinese Helpline – we are here to listen in Mandarin
The helpline runs every Wednesday from 8pm to 10pm. The phone number is: (03) 9028 7951
 The older Chinese community is increasingly socially isolated and are facing enormous loss and grief associated with migration and ageing.
These are some of the initial findings from GriefLine's Chinese Helpline which began in May, with funding from the City of Kingston.
The new program has enabled GriefLine to train Mandarin speaking volunteers to deliver free listening and support each Wednesday, and support a volunteer recruitment and training program to increase volunteers with a Chinese background.
The findings reflect why GriefLine initiated the service, one of the few in Victoria which focusing on the mental health and wellbeing of the Chinese community.
"We are continually looking at ways to make our helpline more accessible for non-English speakers, but also more sensitive to the different cultures, attitudes and outlooks that make up our rich and diverse community," Susan Mathew, Children and Family Counsellor, said.
The 2011 Census reported that migrants born in China are the third largest overseas born population in Australia. The elderly Chinese population is projected to be in the top five group of overseas born Australians by 2022.
The City of Kingston has a higher population of older people than the Greater Melbourne area with almost 10% aged 70-84.
The helpline runs every Wednesday from 8pm to 10pm. The phone number is: (03) 9028 7951.